RPC4Django
RPC4Django is an XMLRPC and JSONRPC server for Django powered projects. Simply plug it into any existing Django project and you can make your methods available via XMLRPC and JSONRPC. In addition, it can display nice documentation about the methods it makes available in a more customizable way than DocXMLRPCServer.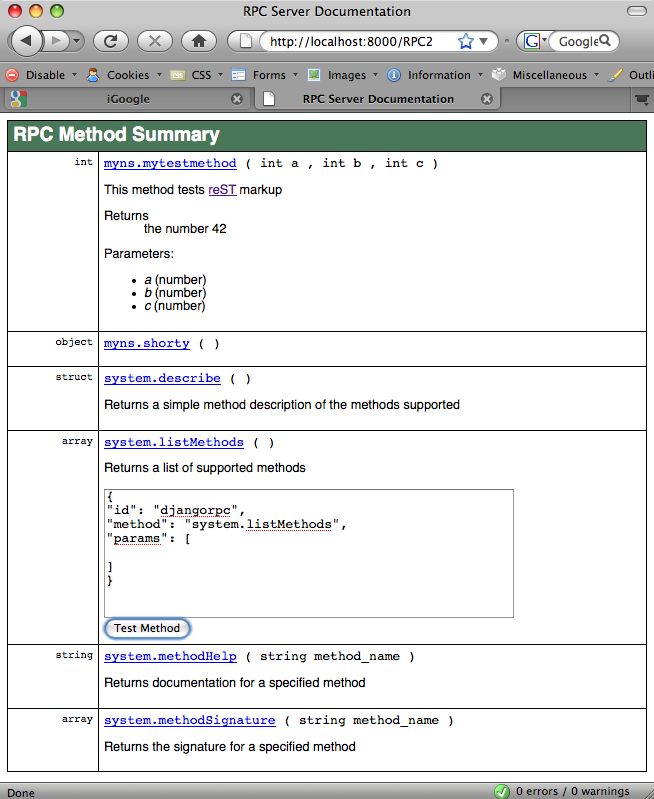 Detects request type (JSONRPC or XMLRPC) based on content
Easy identification of RPC methods via a decorator
Pure python and requires no external modules except Django
Customizable RPC method documentation including reST
Supports XMLRPC and JSONRPC introspection
Supports method signatures (unlike SimpleXMLRPCServer)
Easy installation and integration with existing Django projects
Licensed for inclusion in open source and commercial software
Ties in with Django's authentication and authorization
Download
Version 0.2.1 – 08 March 2013
rpc4django-0.2.1.tar.gz (pgp)
Documentation
Demo Server
Installation
Prerequisites
RPC4Django has been tested on Mac OS, Linux and Windows.
Python 2.6 – 2.7
Django 1.3+
Docutils (optional)
Source Install Method
This is the preferred method for installing RPC4Django.
> tar xvfz rpc4django-x.y.z.tar.gz
> cd rpc4django-x.y.z
> python setup.py install
Easy Install Method
> easy_install rpc4django
Pip Install Method
> pip install rpc4django
No Installation Method
This method installs RPC4Django only for one specific django project but does not require any special system access.
> tar xvfz rpc4django-x.y.z.tar.gz
> cd rpc4django-x.y.z
> cp -r rpc4django YOUR_DJANGO_PROJECT_DIRECTORY
Github
RPC4Django is hosted in Github.